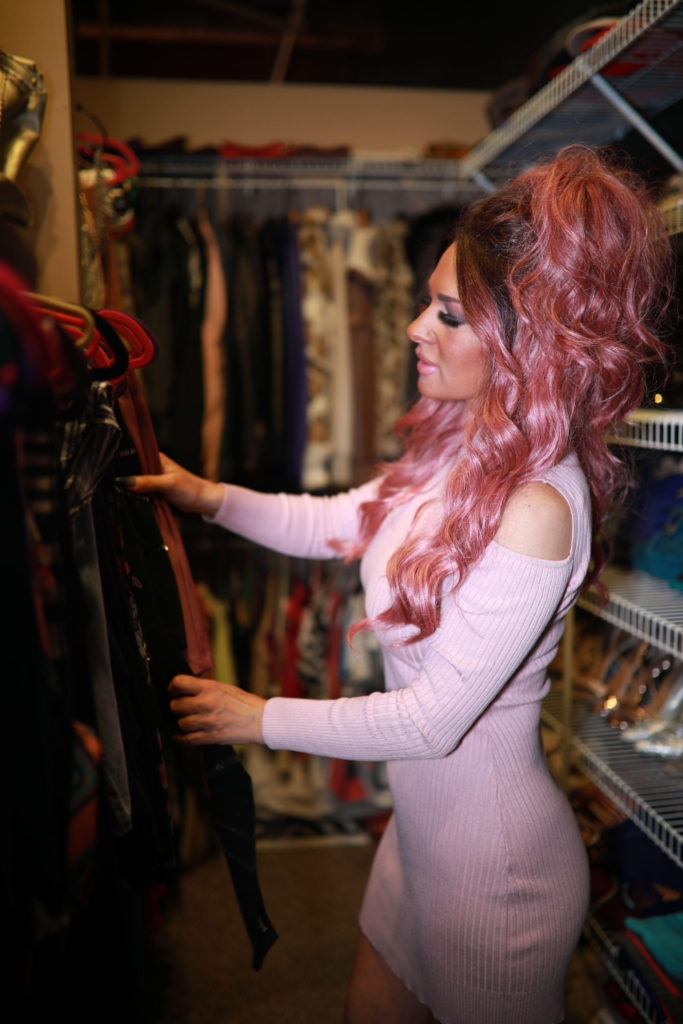 Is this you??
You're a busy gal. You're a wife, a mom, a dog-mom AND you work full time. You have a family event coming up. You want to look fabulous because you haven't seen these people in a hot minute. Plus, you know they'll be loads of pics on social media, and you want to look good in them. You don't have time to get in for a hair appointment because you are busy and now you're kind of freaking out.
No dress, bad hair-aaahh!
You even think to yourself, "I can trim my own bangs or I can just touch up my own color."
You haven't treated yourself to a cute new party dress or a fun outfit in a while and the last five dresses that you did just order look like crap on you!
What's a girl to do?!
Let's weigh out the two options:
In the worst case scenario you'd feel like this:
-panicked, because there's too much to do and not enough time
-indecisive, because you have no idea what to wear or where to even start shopping
-uncomfortable, because the new dresses that you've ordered don't fit properly and aren't the color or material you had hoped
-disappointed because you're afraid that your overall style will not be as flattering on you as you had hoped
-bummed because you spent money on a dress that you'll probably never wear again
-boring because you did your hair the exact same way you always have done it
Best case scenario you'd feel like this
-excited that you put on that old dress you haven't worn in a while and realized it still fits pretty darn good
-pumped that you have an easy new hairstyle that coordinates with your look that you did ALL by yourself
-style savvy because you purchased a statement necklace and a purse that you love, and you know you'll wear both of them again and again
-creative because you styled your own hair completely different than you usually would have
-gutsy because you finally rocked that bold lip color that's been in your makeup kit for months
-empowered because the next time this happens you know you'll feel confident and hot as hell
So…panicked, indecisive and disappointed OR excited, creative and empowered???
If you're an option B type of gal, all you need to do is to book an appointment with me for a styling lesson or styling "sesh" or wardrobe editing consultation! (Call it what you'd like, it doesn't matter to me)
Email me directly to get started now! Gina@Glamhairus.com
Skype appointments available upon request for fashion emergencies (up to 7 days prior to event) or if you live out of town.
Here's some client love:
"Gina visited my home to provide me some fashion consulting for the fall season with focus on outfits to wear to an upcoming vacation trip to New York. Together, we went through my closet and Gina helped me to put together some great outfits that I wouldn't have thought of on my own. She provided me her insight on what the current trends were and showed me new ways to wear various pieces. Gina also provided me ideas on how to best fit my body type so that I look my best. She worked with me also on accessorizing…again, pulling jewelry & shoes from my already existing collection and showed me new ways to pair them with outfits and took pictures so that I would have something to reference once she left. Gina has a true gift and passion for fashion. Whenever I had a question about a piece combination, Gina confidently explained what items worked together (based on color and/or style) and was also able to make modifications to outfits that I was not 100% comfortable with. Everyone can benefit from wardrobe consulting. It is SO worth taking the time and making an appointment with Gina! Her fresh perspective creates excitement for what's already in your closet when you would otherwise say "I have nothing to wear!" – April K
"I have to say that I was pretty skeptical when I heard about the idea of wardrobe consulting. I knew all of my clothes and just couldn't imagine what Gina or anyone could do with them to make them more interesting, fun and flattering on me. Boy was I in for a treat! Gina showed me how to mix and match my casual pieces with my glam pieces and how to layer and accessorize in a very easy yet fashion forward way. It truly felt like I went shopping in my own closet! Pieces I thought I'd never wear again suddenly became so useful and chic. I felt like a million bucks after this two hour session! As a former skeptic, I would highly recommend this service from Gina, even if you believe you know your closet and your fashion." – Maida N.
"Gina is a wonderful hair stylist and wardrobe/image consultant. I have used her for both services and have been WOWed. She is professional, listens to her client's needs and has true talent. I highly recommend Gina for everything from haircuts to wedding styling and sprucing up your wardrobe look and helping you put together amazing outfits. Gina was a huge help in coordinating new looks for my business travel and the jewelry I purchased is chic and so fun to wear. Give her a try and I promise you will not be disappointed." – Kathy T.
"At my first makeover appointment I was so nervous and exited that I totally let Gina take charge. I was pampered like a customer at the most exclusive spa on the planet! It's hard to find the words to express how special I felt. Since I started finding my own way, she helped me make changes to express my own personality. She shopped for and brought over five outfits, a wig, sunglasses, fishnets and accessories for me to purchase. After our initial makeover appointment she scheduled a makeup lesson with one of the artists on her team so I could learn how to do my own makeup. I have always and would still highly recommend Gina to every person that asks me! (whether male, female, part of the lgbtq community or exploring their gender identity) Gina was the first person I ever discussed my journey into my gender identity with. From our first email years ago, to our last appointment months ago, Gina has helped me to feel comfortable, special, and cared for. To this day I thank her for supporting my journey into my gender identity, she always makes me feel like a loving friend. Since this was my first experience on my journey, I had no idea what my needs were, or what to expect. Gina was totally patient, answered every question, and helped me find my way through this special time for me. I would rate the quality of Gina's service far above anything I have ever experienced. The biggest difference is the personal relationship and how she truly cares. A price can't be put on Gina's personal service and loving touch. I've met people who get paid a lot of money, but without the true connection, you don't get the amazing results that I still get from Gina. It's wonderful to have a special feeling when I think of or get a communication from Gina or the Glamhairus team!" – David a.k.a. Heather
"I wasn't really sure what to expect from my Wardrobe Editing appointment. I guess I thought we would spend time looking at my wardrobe and Gina would help me figure out what looked best on me. However, I really liked that Gina asked some specific questions about what I wanted to focus on (i.e. a pair of shoes I'd like to figure out to fit better in my wardrobe or if there was a dress I want to figure out how to wear more frequently). This process helped to focus the session on a few pieces of clothing, shoes and accessories and how to use them together multiple ways. I think Wardrobe Editing is a great service because I get tired of wearing the same items of clothing, but putting them together differently makes it almost feel like I have new outfits! I also love that Gina sent me photos of all of the outfits that we put together so I remember them! It was an overall amazing experience. While shopping isn't always fun for me since I'm indecisive and a bit hard on myself (how I look), Gina made me feel beautiful with her genuine compliments! I couldn't help but be excited with seeing myself in the mirror with Gina smiling ear to ear and being my wardrobe cheerleader! It was a nice surprise to start using very old belts again to accentuate my waist and a fun, bright pair of shoes that I wasn't sure how to wear with much of my wardrobe. Gina put pieces of clothing together that I never would have thought to put together so now I have many more wardrobe combination options. There were even pieces I was thinking about giving away, but now I will keep them longer to use and won't have to go shopping. Gina has a real gift and passion for wardrobe consulting!" – Rebecca L.
Check out how a wardrobe session goes down: