Well hello there friend!
I just love spending my days off at the beach, out to lunch or hanging with friends at our local park with my honey and our two senior rescue pups in tow. These type of days are priceless to me! (Add my twin nieces and/or my 99 year old gram-perfection!!!
)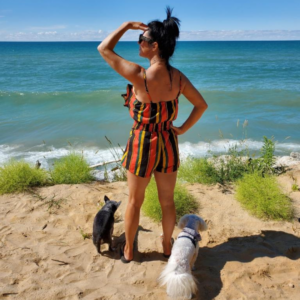 No work, no work notifications, no email. Just time for me to sit and lean into the precious time we all get to spend together!
Sometimes that means batch writing social media captions or working on my business the day before. Like last week.
While I was working on content, I couldn't help but think about how I started out in this industry, working behind the chair at a commission salon, hustling 24/7 to make ends meet. How I worked so hard to go off and start my own business. How I built my one-woman show to a team of 14. How I started educating other stylists and small business owners to create the freedom-filled lifestyle they dreamed of.
My point here is that this industry is full of endless opportunities. You can be the biggest, most in-demand platform artist, or you can be the stylist with the business other stylists admire and a beautiful life balance.
You were put on this planet to make big things happen! Anything is possible in your salon space, as long as you're willing to show up and make things happen.
Xoxo~Gina 
P.S. Want to learn more about creating a work/life balance? Click this link to join my private Facebook group where I coach small business owners on exactly that.