Are you tired of your look? Wish you had a new wardrobe, but don't know where to start? 
Specializing in Image Consulting, Gina will help you update not only your clothes, but also your hair and makeup. Whether it be for a major life change, special occasion, vacation, business trip, or if you're just looking for an update.
 If you are looking for someone that can help you find amazing new pieces for your wardrobe or maybe just adding a few accessories and key statement items to your wardrobe, Style by Gina can help.
 Your first consultation will essentially reflect on your closet and determine your personal style. Together we will decide what items add value to your wardrobe or need to be donated or given away. We will need to weed out your closet and decide how best to showcase your "goods". We will also discuss what staples are needed to complete your look.
 Style by Gina will help you not only look great but you will learn a lifelong lesson on what looks good on you and how to enhance yourself.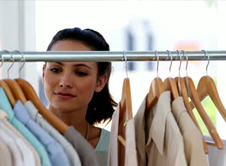 Imagine how you will feel once your closet is full of options and you have learned how to create new updated outfits no matter what your plans hold.
---
Wonder how it all goes down? Check out past image consulting appointments I've had with some of my clients…