You've been a bridesmaid for many of your friends' weddings. You've planned her bachelorette party, her bridal shower and you've been her maid of honor. You've given a speech at her wedding. You've been a shoulder to lean on when she was on wedding planning overloaddd and needed to vent!
Now it's your turn. You're getting married and YOU deserve it.
You deserve to have the look of your dreams with so much ease it's down right ridiculous. 🙂
You don't need to feel overwhelmed with all of these decisions! You can have help choosing the PERFECT hairstyle, makeup and look for your wedding.
If you have questions like: "Should I go half up or all up with my hairstyle? Should I do airbrush makeup or not? Does the airbrushing look cakey after a while? Will the curls stay in my hair all night? If I get extensions, will they feel comfortable? Should I wear a hair accessory AND a veil? How close to the wedding do I need to do my hair and makeup trials?"
Guess what?! I can help you with ALL of that!
Here's what I do:
-Haircuts
-Hair color
-Hair styling lessons
-Permanent extensions
-Keratin treatments
Here's what my team and I do:
-On-site special occasion hair & makeup
Here's what I sell:
-Custom clip-in extensions
-Custom wigs
-Custom bridal accessories
And here are a few recent brides that I was lucky enough to work with and style for their big day!
Val and her beautiful mom are wearing a custom hair accessory from Glamhairus.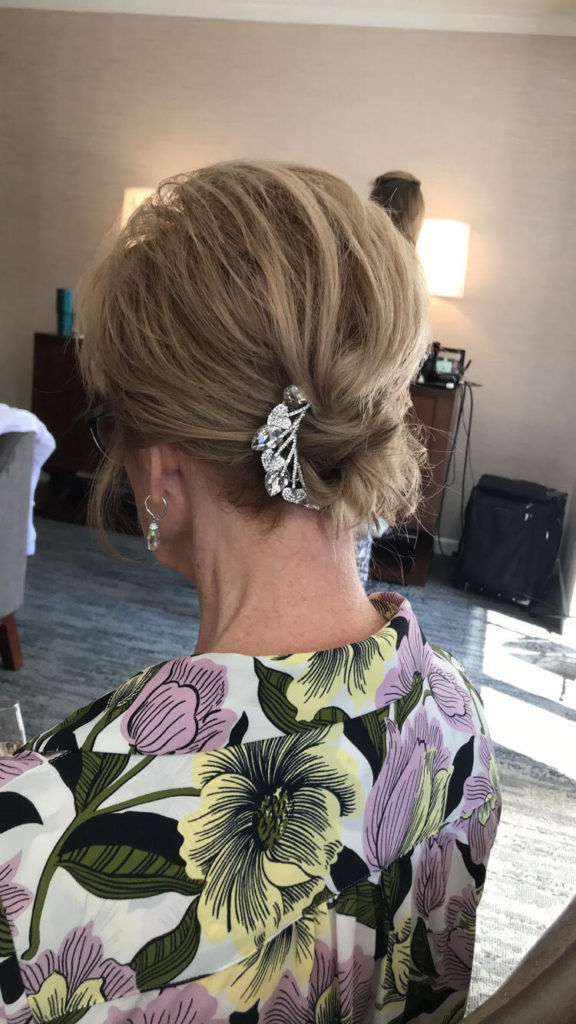 Julia is sporting custom clip-in extensions, a hair accessory and a cuff from Glamhairus.
Maura and her sister are rocking a hair accessory from Glamhairus.
Allison is looking fancy with clip-in extensions from Glamhairus.
Kristina has custom clip-in extensions and a bridal hair comb from Glamhairus.
Maria is wearing custom clip-in extensions and a hair accessory from Glamhairus.
Lauren is sporting a custom hair accessory and clip-in extensions from Glamhairus.
Heather looks stunning with a hair accessory, earrings and cuff from Glamhairus.
Email me at Gina@Glamhairus.com to start planning YOUR special event hair and makeup!
With SO much love, 
     XXX~Gina
P.S. Want a sneak peek of how it looks to style a wedding party?! Check out this video of early morning hair and makeup for Jamie's big day!