I hope you had a spectacular Mother's Day weekend! My honey and I hopped around visiting my family and his family all day. Our furry guys were in tow, so that made this fur baby momma very happy.
Here's my beautiful mom! Such a fasionista, isn't she?! 🙂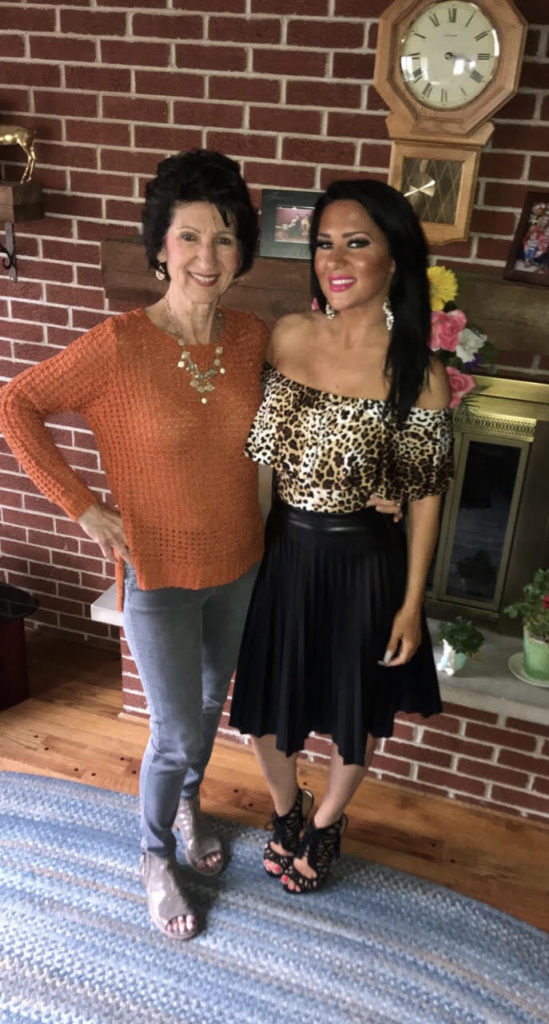 Imagine if…
-You had long flowy hair without having to think about it 90% of the time.
-Your closest girlfriend couldn't tell that you were wearing extensions because they looked SO natural in your hair.
In this short video, you'll see how the process of Permanent Extensions goes down!
Cold Fusion (or I-Tip extensions) are NOT applied with any heat at all. They are installed with a small metal cylinder and a plier-type tool.
Pros:
-they last at least a year (with 7-8 week touch ups)
-it's a fun change, no matter what time of the year
-they are the most gentle kind of extensions (which means no damage to your natural hair)
-it's wash and go hair….they make a hat, pony, topknot or braid look extra cute
Cons:
-upkeep (every 7-8 weeks)
-your hair takes longer to dry
-cost (good quality hair is an investment)
Here's what my darling client Stacey had to say about her extensions:
"Love love love my cold fusion extensions from Gina!!!
I previously had tape-in extensions and after some research and a friend's first-hand testimonial. I decided to try cold fusion extensions. I was hesitant with the upfront cost but like the upside of lower maintenance costs. I was also hesitant about just how many pieces would have to go into my head – 100? 125? Holy cow that sounded like a lot and I worried it would feel really uncomfortable. But with my friend's testimonial and Gina's assurance that these would be awesome (she had done my tape-in maintenance work and I loved her) – I decided to just go for it!
Gina found a mix of 2 colors to match my hair perfectly. 100 pieces in total. She put them in and I was stunned by how natural they looked and even more awesome – how light they felt! I could run my hands through my hair, not all the way from the root but pretty dang close. They felt so natural and looked AMAZING.
I love the way my extensions enhance my confidence as naturally as a fake thing can.
I have long, awesome hair without having to think about it 90% of the time. Now don't get me wrong there's a time or two they can be a bit of a pain – it can be challenging to put my hair up in a ponytail and ensure they're not showing – but the good totally outweighs any little bit of bad!! I get so many compliments – people don't even realize they're even extensions except that I always tell them because I know what it's like to be the girl longing over someone else's dreamy hair and I want them to know they can have it too!
Thank you, Gina!!!" – Stacey E.
Do you have a girlfriend or coworker who is interested in extensions?! I'd be forever grateful if you shared this blog with her.
     XXX~Gina
Sign up for my weekly emails here, and you'll receive a FREE 5 step mini course on how to get the perfect hairstyle any day of the week.