Hello & happy Spring.
Spring and early summer is the time of year when I'm doing keratin treatment after keratin treatment on my clients. You know why?? Because it's humid and momma ain't got no time for frizz!
One of the most dramatic and instant results of any service that I offer is from a keratin treatment!
I just can't help myself from trying to fix a hair problem, or dislike, that a client of mine is having with her hair. #hairdoctor ??
Basically it comes down to this:
If your hair is thin we can make it thick (extensions). If it's brown we can make it blonde (hair color or a wig). If it's frizzy we can make it frizz free and oh-so-shiny (keratin treatment). If it's short we can make it long (a wig or extensions).
A keratin treatment is like a facelift for your hair. Seriously-I'm not lying!
What it does:
-Takes away half of your at-home drying time
-Softens unruly or uneven curl and takes away most of the frizz
-Makes your hair significantly shinier
-Gives you more styling options
It's like a blanket protecting your hair from your curling iron, flat iron or your blow dryer!
Here's a client of mine that has crazy hair from the grey coming in and from the texture changing since becoming a mom (not fair)! She says she CAN NOT live without her keratin treatment!
Here are the before and after pictures: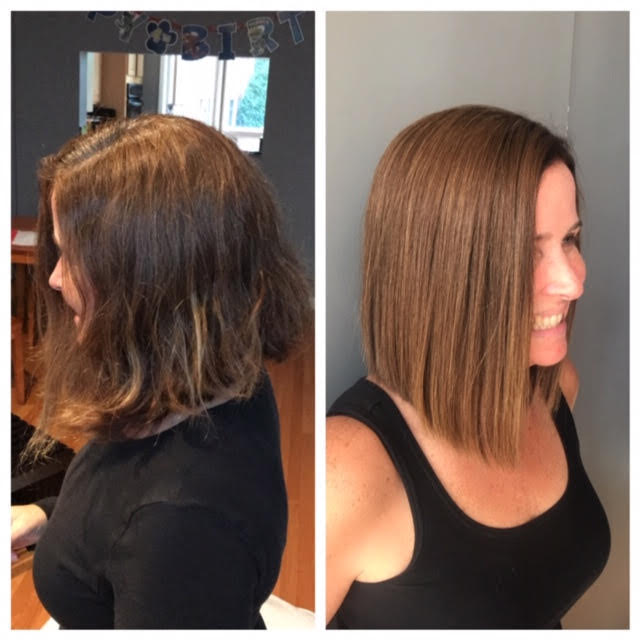 Her hair is actually frizzier and more unruly than the before picture, but she had it pulled back when it was damp to smooth it out a bit.
In this picture (below) her hair is air dried. She only has to flat iron the ends to make it sleek and more polished looking, but she can air dry and go!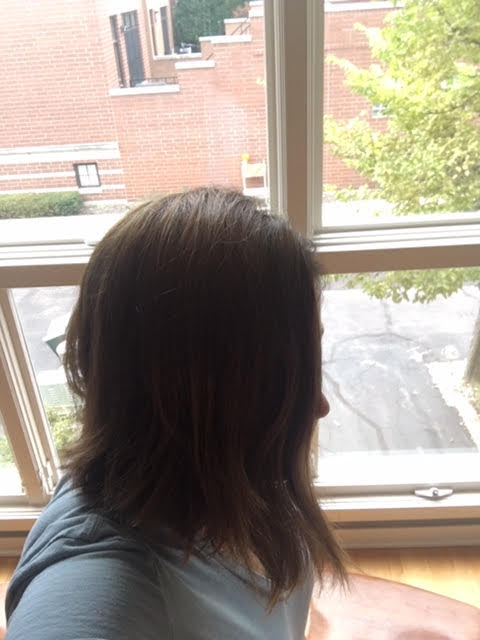 I knew you would LOVE a keratin treatment Tracy.
Here's what she had to say after her first keratin treatment a few years ago, before her destination wedding in Hawaii.
"Although I couldn't bring Gina to Hawaii, we still did a hair trial where Gina took detailed pictures and detailed explanation. The stylist in Hawaii was so impressed and grateful for Gina's attention to detail and I did not have any anxiety about my hair. The stylist also loved the hair accessory that I purchased from Glamhairus. She was showing everyone else at the salon. At our reception in Chicago, Gina created a totally different look. I felt so flawless and beautiful! For this look my hair was swept low at my neck and Gina found the perfect hair bling to complete the look. I absolutely loved my hair! Keratin – I have thick frizzy hair. Going to humid Hawaii made me nervous. Of course, Gina had a solution for this too. I had my first Keratin treatment done about three weeks before my wedding day. Not only did my hair not frizz on the big day, I was able to wash and go for our whole honeymoon. I have been hooked on Keratin ever since."
Are YOU ready for a hair facelift? Are you ready for EASY hair?
Email me here: Gina@Glamhairus.com and I'll get you set up for your treatment!
     XXX~Gina