Hey there!
I've got a surprise for you.
In my last blog, I wrote about something I found quite interesting and, honestly, quite basic, at the same time. It's called DSD. Check it out here if you haven't already.
My darling client Rebecca was down to DSD!
She lost some weight recently, moved AND her closed size shrunk-significantly! During our wardrobe editing appointment together, she thought she was ready to give away several dresses that were now too big on her.
Until…
Wait for it… simple style fix… which makes you look significantly thinner…
Ready??
Until…we BELTED her dresses that looked too big on her!
She really wanted to keep them, but didn't think she could still pull them off and look good. That was the easiest fix ever! The best part is that they were belts she already had but wasn't wearing.
Below are a few examples of that small but mighty styling trick we used to accent her small waist!
Great transition into spring dress:
-floral makes you think of spring
-long sleeves keeps you warm while it's still chilly out
-neutral shoes make any outfit on-trend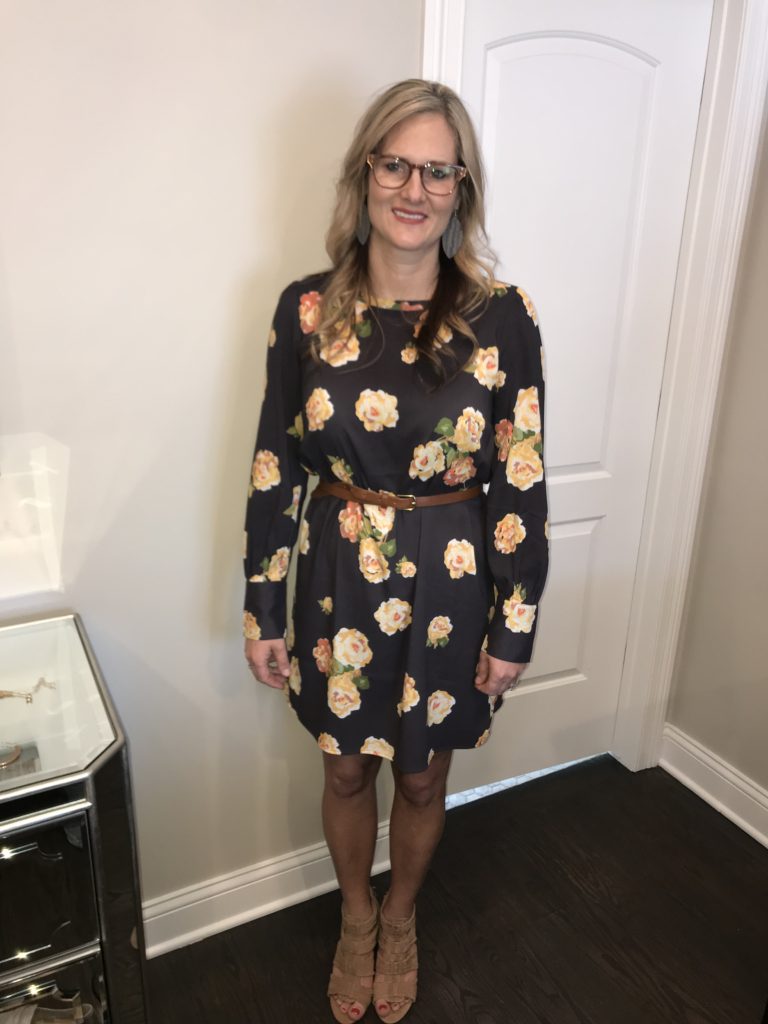 We made this dress look a bit more edgy (something totally different for Rebecca) by adding a biker jacket and a pair of booties. And, of course, we added a belt to cinch in her waist!
Simple and chic. Again, we added another belt to accent her waist and to break up her black flowy pants and black tank top. In my opinion, too much black can be boring too! A denim jacket makes any look more casual and spring forward.
LOVE this color combo on Rebecca!
She said she never would have thought to pair a salmon color with a teal color! (Those are her FAV shoes that she barely wears, because she thought they didn't compliment any of her clothes!)
Rebecca had a few cute summer jumpsuits. She's learned to make them more versatile by wearing the right jacket over it. (That's very important for a busy mom of four.)
What makes it so flattering and spring ready?
-a colorful necklace
-neutral colored belt
-neutral shoes
rolling her blazer sleeves up (such a cute striped lining underneath) Now she can show that off too!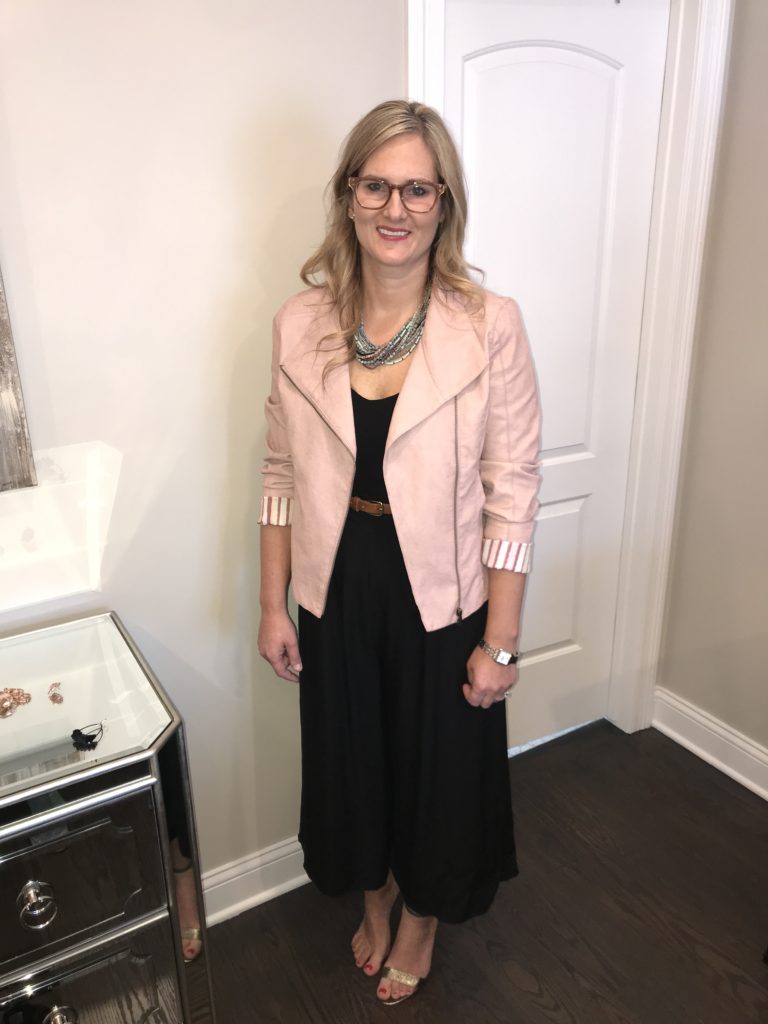 Below are some of the kind words that I received from Rebecca about her wardrobe editing appointment! Thank you Mrs. Rebecca
"It was a nice surprise to start using very old belts again to accentuate my waist and a fun, bright pair of shoes that I wasn't sure how to wear with much of my wardrobe. Gina put pieces of clothing together that I never would have thought to put together, so now I have many more wardrobe combination options. There were even pieces I was thinking about giving away, but now I will keep them longer to use and won't have to go shopping. Gina has a real gift and passion for a wardrobe consultation!"
Do you have a friend who would find these style tricks helpful? I'd love it if you'd share this blogpost with them!
Thank you and have a beautiful week.
     XXX~Gina
In case you missed it, check out the first part of today's story here where Rebecca was down to DSD