Ok my friend, we both know you're not basic but this is important and I want to help!
Is this you??
You're a busy gal. You're a wife, a mom, a dog-mom AND you work full time. You have a family event coming up. You want to look fabulous because you haven't seen these people in a hot minute. Plus, you know they'll be loads of pics on social media, and you want to look good in them. You don't have time to get in for a hair appointment because you are busy and now you're kind of freaking out.
No dress, bad hair-aaahh!
You even think to yourself, "I can trim my own bangs or I can just touch up my own color."
You haven't treated yourself to a cute new party dress or a fun outfit in a while and the last five dresses that you did just order look like crap on you!
What's a girl to do?!
Let's weigh out the two options:
In the worst case scenario you'd feel like this:
-panicked, because there's too much to do and not enough time
-indecisive, because you have no idea what to wear or where to even start shopping
-uncomfortable, because the new dresses that you've ordered don't fit properly and aren't the color or material you had hoped
-disappointed, because you're afraid that your overall style will not be as flattering on you as you had hoped
-bummed, because you spent money on a dress that you'll probably never wear again
-boring, because you did your hair the exact same way you always have done it
Best case scenario you'd feel like this:
-excited that you put on that old dress you haven't worn in a while and realized it still fits pretty darn good
-pumped that you have an easy new hairstyle that coordinates with your look that you did ALL by yourself
-style savvy because you purchased a statement necklace and a purse that you love, and you know you'll wear both of them again and again
-creative because you styled your own hair completely different that you usually would have
-gutsy because you finally rocked that bold lip color that's been in your makeup kit for months
-empowered because the next time this happens you know you'll feel confident and hot as hell
So…panicked, indecisive and disappointed OR excited, creative and empowered???
If you're an option B type of gal, all you need to do is to book and appointment with me for a styling lesson or styling "sesh" or wardrobe editing consultation! (Call it what you'd like, it doesn't matter to me)
Here's me happy as a clam in my element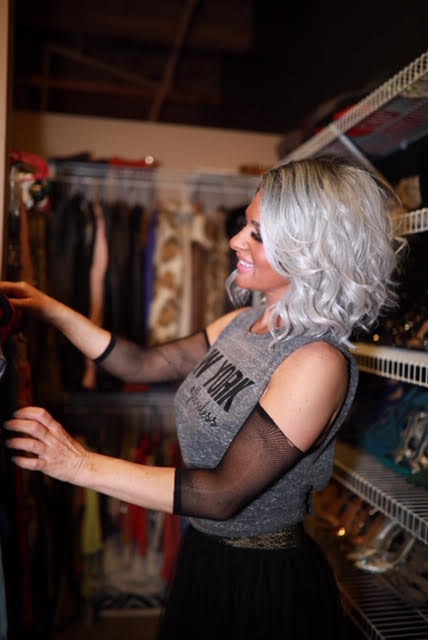 And here's what one happy client had to say about her styling sesh:
"Gina visited my home to provide me some fashion consulting for the fall season with focus on outfits to wear to an up coming vacation trip to New York. Together, we went through my closet and Gina helped me to put together some great outfits that I wouldn't have thought of on my own. She provided me her insight on what the current trends were and showed me new ways to wear various pieces. Gina also provided me ideas on how to best fit my body type so that I look my best. She worked with me also on accessorizing…again, pulling jewelry & shoes from my already existing collection and showed me new ways to pair them with outfits and took pictures so that I would have something to reference once she left. Gina has a true gift and passion for fashion. Whenever I had a question about a piece combination, Gina confidently explained what items worked together (based on color and/or style) and was also able to make modifications to outfits that I was not 100% comfortable with. Everyone can benefit from wardrobe consulting. It is SO worth taking the time and making an appointment with Gina! Her fresh perspective creates excitement for what's already in your closet when you would otherwise say "I have nothing to wear!" – April K.
Book your appointment here
Or email me directly and we'll set it up that way! Gina@Glamhairus.com
Cheers
P.S. Skype appointments available upon request for fashion emergencies (up to 7 days prior to event) or if you live out of town.
     XXX~Gina