WOW-and just like that it's almost February!
The recent cold and snowy weather has been the perfect opportunity to binge on some Netflix!
A dear client of mine recommended I watch Marie Kondo's show called Tidying Up. I just had to check it out! It's a show about purging and organizing every corner of your house in a grateful mindset kind of way. For example, before tossing or donating a dress, you thank it for the purpose it had in your life and you give it away happily. I found that concept very unique and I love it! I'm going to have to give that a whirl the next time I clean out my place.
BTW..by "check out" I mean that I watched the entire 8 episode series, talked and texted about it with everyone I came in contact with. I even had some of my friends and my boyfriend watch an episode with me. Then I went through all of my cabinets and drawers to see how I could tidy up more!
You see, I love to organize and to be organized, so this type of thing is right up my alley! It makes my life SO much easier!
The first thing I thought of is my beauty routine, how organized are all of my beauty products?!
This is my makeup kit:
When doing my makeup it makes it much easier for me to keep the eyeshadows all together, my lipsticks and lipgosses all together, my brushes together etc.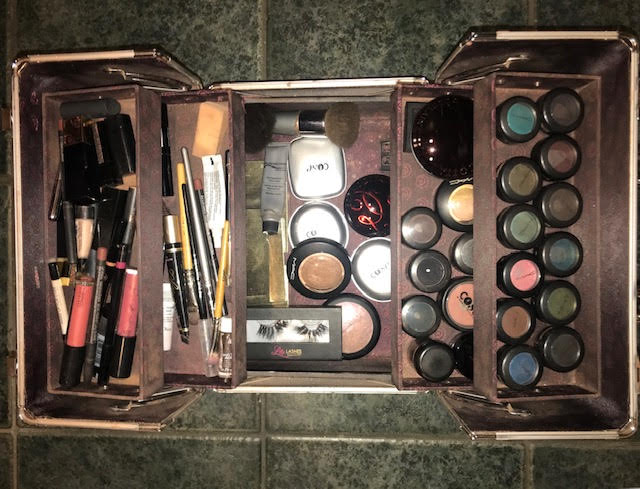 My kitchen cabinets:
I like everything stacked or in rows so I can find what I'm looking for easily. Plus it looks pretty and inspires me to cook more 🙂
My closet:
I have A LOT of shoes and color coordinating them makes me joyful
The are all easily accessible and visible so I tend to wear all of them!
I have dresses in one section, my coats in another section…
My purses are all on the top shelf of my closet and are also color coordinated for easy accessibility. (I know, OCD)
I have so many pencil skirts, so I spread them out just enough to see all of them so, again, I remember what I have and wear them.
My big chunky necklaces are spread out and hung on an accessory hanger- I do that with my belts too!
How do you Marie Kondo your home? I'd love to hear about it. Please let me know at your next hair appointment
And if YOU would like help organizing your closet or beauty products (which hair products to toss, which lipsticks look good, do I need all of these jeans?!) then I'd be ecstatic to set up a custom editing appointment for you! Just email me at Gina@Glamhairus.com so we can get started!
     XXX~Gina