Question for you:
If you're in a service based profession, do you ever get asked something so many times that if you had a dime for every time someone asked you this question you'd be a millionaire?!
I'll be honest. That's how I get most of the ideas for my YouTube videos! If three or four of my clients are asking me a specific question, then others are probably thinking the same thing!
When a client asks me "how do I get my hair to stay full all day?" or "what should I do with my hair when it's dirty and I don't want to wash it but still want it to look good?" or "when I curl my hair do I use hairspray before, during or after I curl it?"
Curious about those answers? Check out the video below:
or…book a one-on-one hairstyling lesson in addition to your next hair appointment!
Book here!
After a lesson, I find it SOOO rewarding to hear feedback from a client saying, "you'd be so proud of me….I curled my own hair for this wedding, and it stayed all night long! My hair even looked good in the pictures at the END of the night!"
My dear client Kati and I were talking about how old is too old to have long hair.
My answer is pretty much never!
If you have an appropriate haircut and color that suites your face shape and lifestyle, then you are never too old to sport long hair.
Kati is a busy momma of three and wears cold fusion extensions and we've been doing them for about five years now. After her first child was born she lost a lot of hair around the perimeter of her face and was not feeling good about it! First your body changes dramatically, then your hair falls out?! It's not fair!
By adding 50 pieces mostly to the sides of her hair (it's all about distraction) that made her feel more confident about the way her hair looked. And it made ME really happy to give her some of her hair confidence back!
Isn't Kati darling??? That's her with her third baby! #momgoals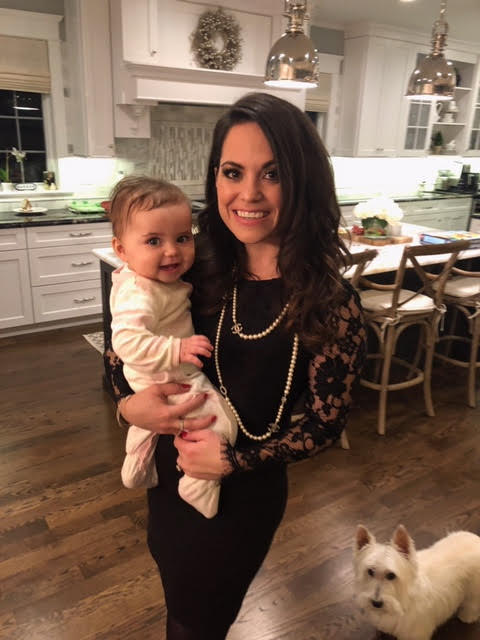 Cheers to a fantastic week!
     XXX~Gina