Happy mid-December! I hope you're getting all of your holiday shopping done-me, I haven't even started yet!
I'm still spending time celebrating my birthday month along with my fellow Sagittarius sibling! My mom may have had us over on Sunday where I may have overindulged in wine, lasagna (with extra ricotta cheese) and homemade red velvet chocolate cake.
I LOVE a fabulous family #SundayFunday.
Also, my little 17 month old twin nieces met my doggie Vinnie for the first time-OMG the cuteness! They were screaming with excitement at the idea of him and Vinnie was so patient and calm around them. It's like he knew they were babies and harmless even though they couldn't stop touching and kissing him.
So…
What does Jennifer Lopez, Kate Middleton and Christie Brinkley have in common?! They all wear extensions and they look fantastic!
I got a message recently from a darling client about her custom clip in extensions that she got from Glamhairus a few years ago. She hadn't washed them yet, so she had a few questions about the process. In most cases, they last about 10-15 uses before you need to wash them! #easybreezy. After air drying them overnight she had one last question and included this picture.
"I washed them last night and they dried kind of frizzy …. should I straighten them before I curl them?"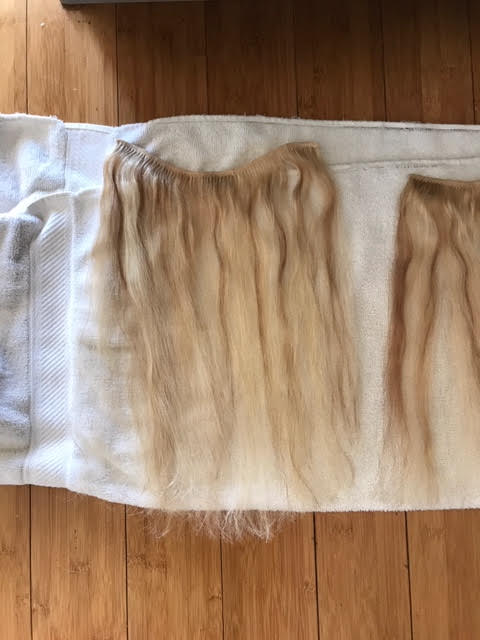 I've heard this question so often from other clients that do not wear any type of extensions that have the same problem with their natural hair.
My reply…
"Nooooo!"
This will make the frizz go away but the curl will NOT stay in them. And you're going to be very mad at me if this happens! (So glad she texted me)
You see, this blonde bombshell wears permanent extensions already (see before and after pic below) and wanted to be a tad more Extra with some big full curls for her upcoming girls trip. She was planning on adding the clip-in extensions to the permanent extensions (I used to do that too when I wore extensions! I even did that for one of my brides a few years back)
Before permanent Ext….   After…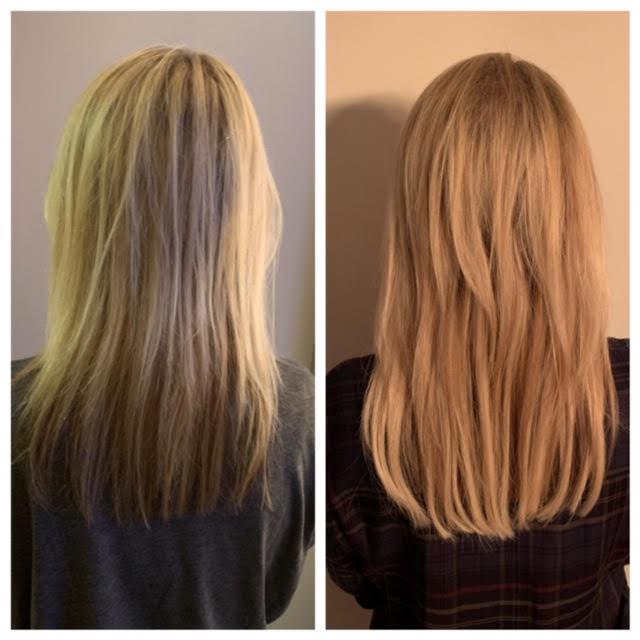 Of course that got me thinking.
My other clients must have the same type of questions about clip-in extensions. I was panicking!! I need to do something about this pronto!!
I must do a how-to video on this and save all my other clients from not knowing how to care for their extensions!!!
I can't send them off buying clip-ins from me and having no idea how to take care of them! (I just assumed they would know already)
I made a list of the most frequently asked questions and then answered them!
In this video you'll learn:
How to:
-control the frizz without flat ironing them
-wash and dry them
-store them
-curl them (and more!)
Do you have clip-in extensions? Are you thinking about purchasing a set? Do you know someone who wears them? If so, then you're going to LOVE this video! Click the link below to watch.
P.S. I'd really appreciate it if you passed along this blog to your bestie/sister/coworker if you think it'd be helpful to her.
Have a fantastic week my friend!
     XXX~Gina